The following section describes the process of BTC purchasing using a debit/credit card. This all in a hassle-free motion and directly from the Sovryn platform.
While this service is hassle-free, the use of your credit card requires Transak to have a KYC (Know Your Customer) process to be done by you. Transak will request this verification at the end of this procedure.
NOTE: Before proceeding, verify that the Transak credit card payment service supports your country.
On the right top, connect your wallet by clicking the Connect Wallet button.
If you have not already set up your wallet to connect with the SOVRYN dapp, visit the Wallet Setup Guide section before proceeding further.

From the top navigation menu, select the Portfolio tab or click the yellow Deposit button next to your wallet address. You will be moved to your asset overview.


The first displayed asset on this page is RBTC (the RKS native token and 1:1 equivalent to the standard BTC).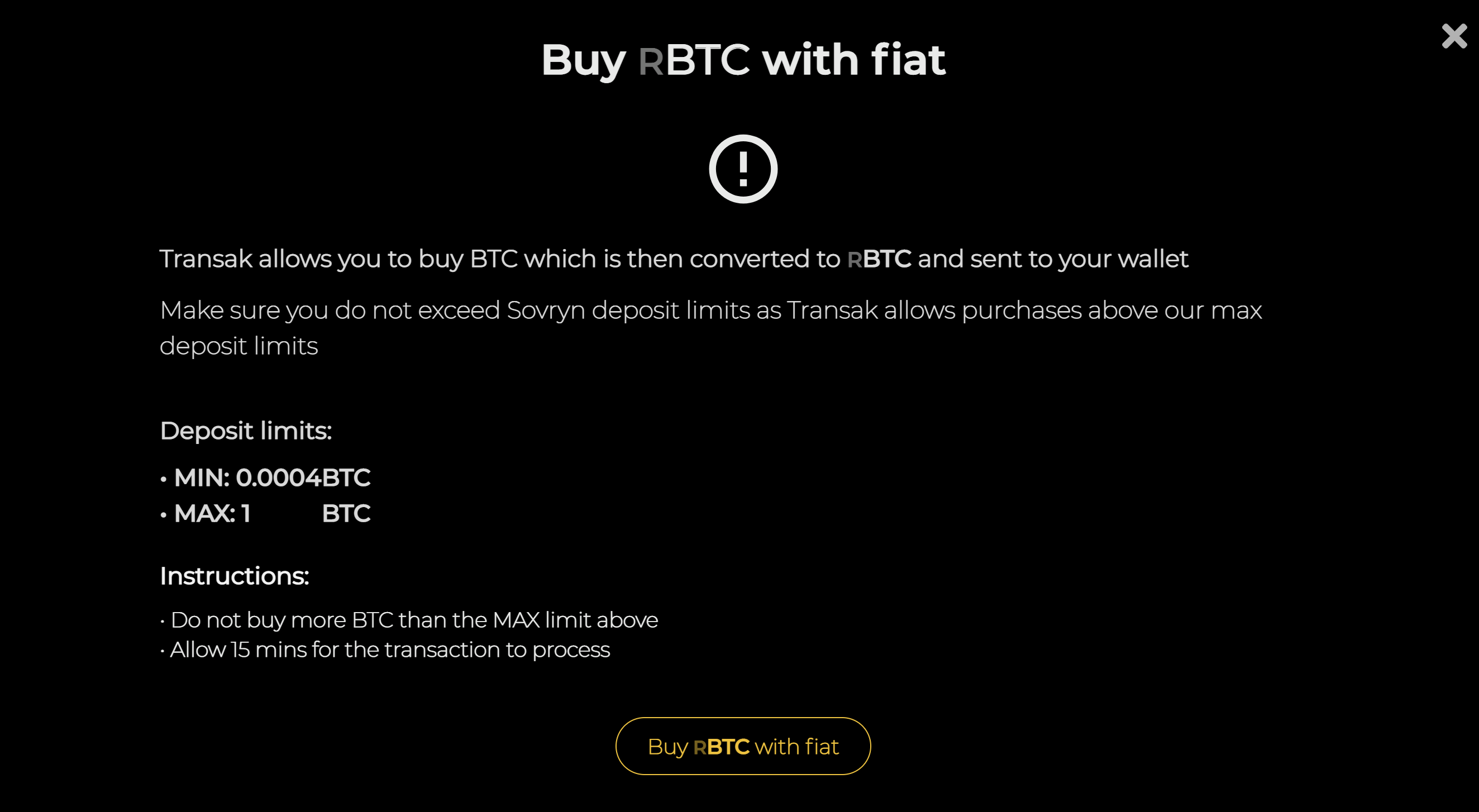 NOTE: This step will generate a personal FastBTC deposit address, where your purchased BTC will be converted and deposited. The purchased BTC will be pegged through the RSK Network in a 1:1 ratio with RBTC and ultimately land in the RBTC wallet connected to your account.
The minimum amount a user needs to purchase with Transak service is 0.0004 BTC.
The maximum limit is 1 BTC.
You will be prompted to set the payment parameters in a new popup window:
Enter the fiat amount you want to convert to BTC (which will ultimately arrive in your wallet as RBTC).
Select the fiat currency and payment method.
Check the fees and the BTC/fiat rate.
Verify the estimated amount of BTC (which has to be more than 0.0004) with the possible slippage.
Once verified, click Buy Now.
¶ 7. Verify yourself and wait for the deposit
After buying the BTC from the previous step, you will be asked to complete a KYC process.
Follow the Transak verification steps to finish the procedure.
After the specified processing time (estimated time 1-2 days in this example), your purchased Bitcoin will be deposited on the Sovryn platform in the form of RBTC and transferred to your connected wallet on the RSK Mainnet.
DISCLAIMER: Nothing on this page should be taken as investment advice. Including a third-party app or service does not constitute an endorsement of the app or service by Sovryn developers or anyone else in the Sovryn community and is provided for informational purposes only. If you have any problems with the listed third-party apps or services, don't hesitate to contact the maintainer of that app or service for help. Sovryn does not control your funds in any supported Web3 wallet - you are entirely responsible for your wallet security.
Please, do your research and ensure you understand and accept the risks before trading or using any apps or services to store your funds.