*Wiki-Team editors add support resolutions to issues as they become available
If your Liquality browser wallet won't connect or it is showing an incorrect balance, do the following steps:
Disable all other browser extension wallets enabled in the same browser.
Go to Liquality settings and "Forget all connections".
Clear the browser cache and restart it.
Open Liquality and connect to RSK mainnet network and select the address that holds your funds. (You have 2 RSK addresses in Liquality.)
Connect to Sovryn again.
If this does not solve the problem, contact tech support in the Sovryn Discord tech-support channel or follow up this question with a live chat request.
When disconnecting from the dapp on MM mobile, you may be unable to reconnect (see screenshot for the prompt that never re-triggers) - This issue is likely only affecting Android users, iOS seems unaffected, however, same steps should apply if needed. It is advised to avoid using Metamask Mobile for the time being while the issue is investigated and a permanent fix is in place.
This issue is isolated to the mobile version of Metamask - The browser version is unaffected.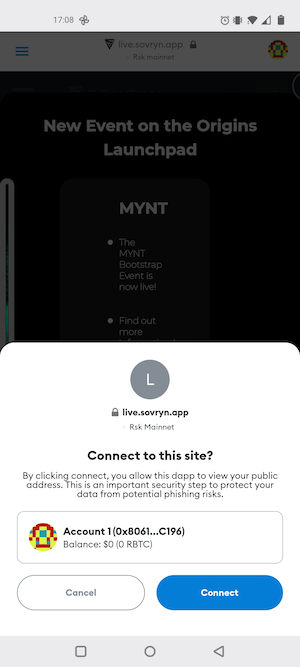 Steps are:
Make a copy of your secret recovery phrase --- VERY IMPORTANT!
Close Metamask Mobile fully.
Open Android settings menu and navigate to (these may be called something else on your phone, or if using iOS)
App Management -> App List -> Metamask -> Storage Usage -> Clear Data, and also Clear Cache (MM mobile is now reset…)
Open Metamask.
Select "Import using Secret Recovery Phrase" and re-enter your recovery phrase from step 1.
Set up RSK network as you did before (Network settings can be found here.
You should now see your wallet address + funds.
Open live.sovryn.app and connect with popup prompt.
Clear browser cache and restart your browser.
The latest Google Chrome update (Chrome 91) can cause U2F transport issues on third-party wallets like MetaMask for Mac and Linux users. Due to this issue, you might experience issues when trying to connect to a third-party wallet.
NOTE: This issue also affects other Chromium browsers (Brave, Microsoft Edge, etc…) on the same version.
Before you start:
Make sure you are using the latest Ledger firmware version for your Ledger
Make sure you are using the latest version of MetaMask.
Make sure Ledger Live is open.
Additional instructions can be found here:
https://support.ledger.com/hc/en-us/articles/360020871157-Connection-issues-with-MetaMask-?support=true
Disable this setting via following uri: brave://flags/#brave-ephemeral-storage
Additional information can be found here:
https://community.brave.com/t/login-and-cookie-problems/279752
There is a known issue that is expected to be resolved shortly whereby Brave users cannot engage MetaMask wallets to Sovryn due to a recent MetaMask update.
First:
Go in settings, search for "wallet" and make sure the "load Crypto Wallets on startup" is OFF

Other fix: Install the legacyWeb3 Extension as mentioned here - https://metamask.zendesk.com/hc/en-us/articles/360053147012
UPDATE: Possible solution (6-8-21) - Disconnect and reconnect Metamask - Verify correct value are shown

ORIGINAL ISSUE: Interesting metamask issue - when connected to the bridge through metamask, and cycling through BSC and ETH, Metamask displays incorrect conversion prices for ETH to USD. Apparently several people are having this this issue when connected to bridges from multiple chains, but in this case it's a situation where the USD denominated gas fee is displayed higher than it actually should be.
There is a known potential transaction failure issue when trying to stake 100% of an asset. The issue is typically caused by either a rounding error, or not having enough RBTC left over for the gas fee. Typically you can resolve the issue by reducing the staked amount to slightly less than 100% to allow enough RBTC for the gas fee, and to eliminate the potential of a rounding error causing the failed transaction.
For example: If you click 100% and it shows 25.6655 reduce the amount to 25.66 and try again.
Failed transactions using Liquality: UPDATE
UPDATE: 5:28 PM UTC April 4, 2021 - Liquality has pushed another update to resolve a failed transaction, and wallet hanging issue. Please update your Liquality wallet to the latest version (v0.24.0) to resolve the issue,
ORIGINAL ISSUE: The Liquality wallet currently does not allow the dapp to pass it a gas limit to use for transactions, nor does it allow users to edit this manually. This is causing transactions on Sovryn, to fail. As far as the Sovryn team are aware, this will be temporary and will be fixed/allowed by Liquality soon. Liquality have been notified of the issue.
To view your tokens in your Web3 wallet, add the contract address as a custom token.
Contract Address: 0xefc78fc7d48b64958315949279ba181c2114abbd
Token Symbol: SOV
Decimals of Precision: 18
RUSDT Address: 0xef213441a85df4d7acbdae0cf78004e1e486bb96
Token Symbol: RUSDT
Decimals of Precision: 18
SOV/BTC Pool-Token Address: 0x09c5FAf7723B13434ABdF1A65AB1b667bc02a902
Token Symbol: (WR)BTC/SOV
RUSDT side: 0x40580E31cc14DbF7a0859f38Ab36A84262df821D
RBTC side: 0x9c4017D1C04cFa0F97FDc9505e33a0D8ac84817F
Contract Address: 0xe700691da7b9851f2f35f8b8182c69c53ccad9db
Token Symbol: DOC
Decimals of Precision: 18
BPRO Contract Address: 0x440cd83c160de5c96ddb20246815ea44c7abbca8
Token Symbol: BPRO
Decimals of Precision: 18
You will need to change the target address to lowercase.
You can use https://convertcase.net/ to do this